I've been framing over 40 paintings for my Covid art show this July. "Saving Lives" will be a gentle and beautiful watercolor journey through the COVID years to honor all we went though, to tell the untold stories, and to process these stories. But it will also include local landscapes paintings from the Seacoast and still life. This show will be appropriate for children of all ages and will conclude with an invitation to respond through writing or drawing. I will be there personally every Fri and Saturday. And my son will be performing in a Harp Duo on Sat, July 8, 1 – 3pm.
You, as my reader and blog subscriber get a sneak peek from the "Saving Lives" Covid art show. Below you'll find one of my favorite from the exhibition and the story behind this painting, "Reunion." If you're reading at my blog you can see the two images that this paintings went through to get to the final piece. The top image is my first attempt, the colors felt too strong to me. The second image is double the size and softer. It's that second image that will be on display at "Saving Lives."
And, if you're local to the Seacoast of New Hampshire, you're invited to come over for this free exhibition, a COVID art show to help us all heal as a community. If you're not local but are interested in my online gallery video experience, don't miss any upcoming blog posts. I'll be sharing how you can enjoy the exhibition from home this summer.
Now it's time to share the piece titled "Reunion" which tells the story of my own "reunion" with my grandparents. The story below will be written up in a placard and displayed together in my "Saving Lives" Covid art show.
Please take a moment to enjoy this painting and the story below. I invite your thoughts in the comments, your prayers this month, and your presence at "Saving Lives"!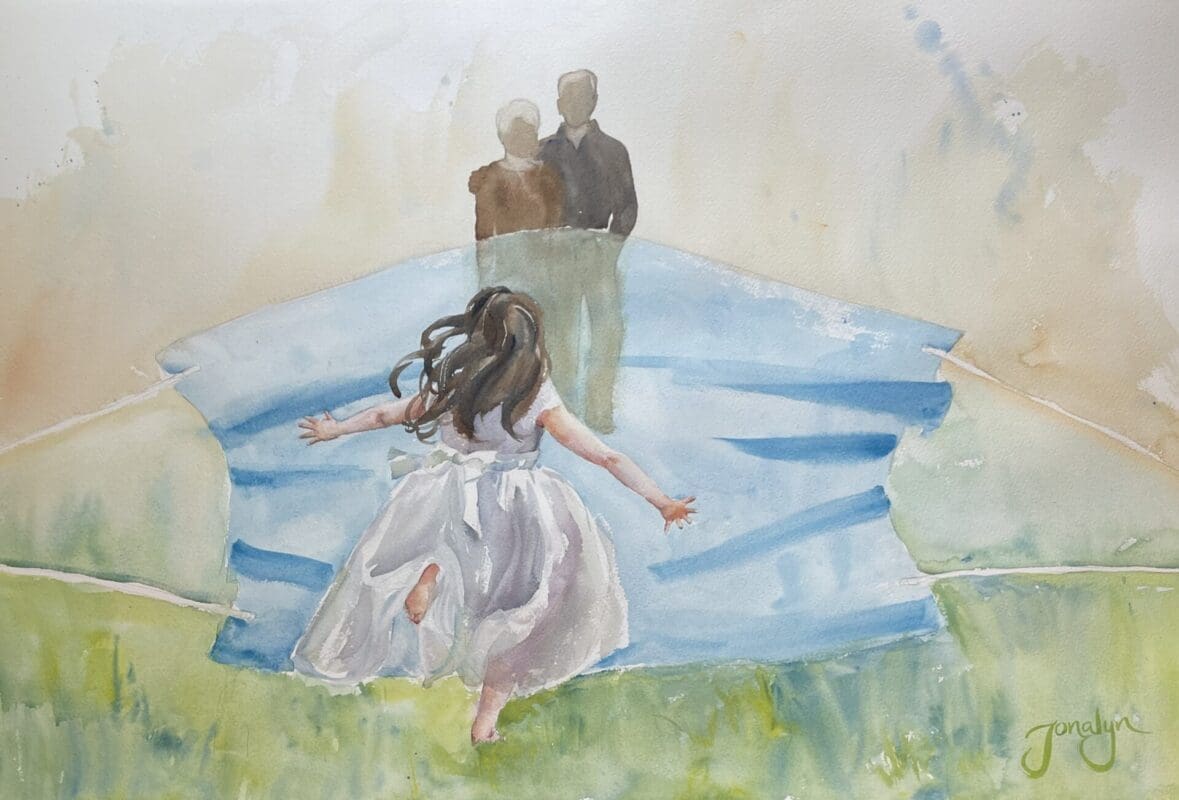 "Reunion" – Los Angeles, California
In 2022, Jonalyn planned a trip to visit her 94-year-old grandparents in southern California, to introduce them to her son (their great-grandson). They planned to give a dual piano concert and bring some home-baked peanut-butter cookies.
The evening of her arrival, Jonalyn called her grandparents. They talked on the phone and, like many affectionate grandparents, couldn't wait to give a big hug and
mil besos
(a thousand kisses).
The next morning, Jonalyn woke with a scratchy throat and called her grandparents. They insisted she still visit. Jonalyn and her son visited but remained masked and six-feet apart. They did not hug or give
mil besos
. Consequently without kissing their smooth, wrinkled cheeks, without getting close in an embrace, they did not get a true reunion. Jonalyn and her son recovered in a hotel and flew home. Her grandparents remained healthy. Back in her studio, Jonalyn painted this piece, "Reunion."
How many reunions did we miss in the Covid years? Which ones hurt the deepest?
~~~
How to attend "Saving Lives"
📌 Where? 
Downtown Exeter in the Foundation Art Space, on the River Side, 111R Water Street, Exeter, NH 
🅿️ Parking 
Robert H. Stewart Waterfront Park (see map for additional free parking options)
📅 When?
July, 2023. Every Thur (4 – 8pm), Fri (4 – 8pm), and Sat (1 – 5pm) in July.
🎶 Live Music

Live harp duo, featuring my son and his teacher on July 8, 1-3pm. Come early to hear O play! Live music from 18:81 band July 15 and 29.