I was a freshman in high school when I ran in my first track meet. I was in the second mile of the two-mile event when I noticed the school principal watching me and checking his stopwatch. At this point in the race, I was far behind or ahead of the front runners. I can't remember which, probably because it didn't matter to me.
I was just running, pacing myself on my own.

When I finished, the principle, who was also the varsity track and cross-country coach pulled me aside and said,
"Did you know your second mile was faster than your first?" I had no idea. This was my first track meet, I was 13. And I didn't have anyone around. It was an away meet: no fans, no family. No one to pace or push me.
The principle pointed out how rare it was for someone to pace themselves faster on a second mile than their first. Then, he asked if I'd considered trying out for cross-country.
~~~
Just like in the Indy 500, when all the cars slow down for the pace car to re-calibrate the speed, we all have cars we follow. We all have people who set our pace for our work, our spirituality, and our relationships.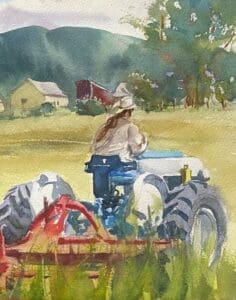 Most of us have chosen pace cars that run us too fast or too slow. A few years back, I took the advice from a mentor to paint every day. I wanted to paint well, so I tried, by hook or crook, to get some painting time in. My motto was "Get my brushes wet every day." This was by no means time wasted, but I also held to the principle as if it were a creed. I was following this pace car too rigidly.
I have since realized I needed a new pace car.
Now, I don't paint every day. Not because it's wrong or bad advice. It's just not the right pacing for me. The Spirit has re-paced me to another rhythm. I don't know anyone else who is writing and illustrating about healing, beauty and friendship like I am. But that uniqueness, while sometimes lonely, is a mark of the Spirit of God. For where the Spirit is, there is freedom. Find freedom and you'll find God at work. For a real life example of this, see the Artist's Note at my blog at right.
~~~
Some of the most mature and lovely people I know pace themselves with flexibility, refusing to let anyone else define success for them. These people tune into the God who made them, daily. These people know what God is asking and check in with Him more regularly than they check social, more often than they workout, more diligently than they eat. These people let God pace them.
I'll be sharing more about what this looks like next week.
Until then, some questions for you to explore who is pacing you:
What counts as success in your life?

Whose life do you compare to the most often?

Whose success leaves you most green with envy?
Who do you admire the most and want to imitate?