Sold
"Jonalyn Fincher's commission piece for my wife and me was just AMAZING! I couldn't be more excited about it. She did a great job, and I can't wait to share with my wife when it arrives (surprise for our anniversary)! I really appreciated all her input and ideas, and the final product is better than I could have hoped for. Thank you, Jonalyn!"
- Dave Fritzler, Colorado
Learn about Jonalyn's Commissions
Sold
"The painting is more beautiful in person. Your art has brought joy and healing to the room. I love the story as well and it gives me pause. I can love and be loved by those who are not like me. What a work of Grace. Thank you! Thank you!"
– Deb Poupard, the new owner of "A Three Cup Day"
Read about "A Three Cup Day"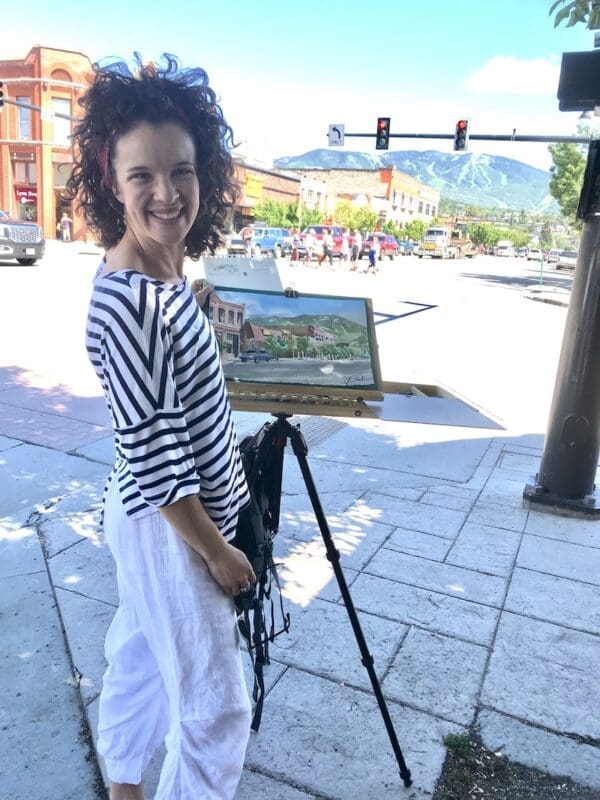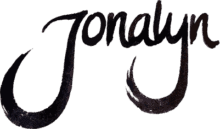 I am a painter from the West. Raised in Los Angeles by a village of people: my Spanish-Mexican grandparents, my Polish grandmother, and my parents.  
As a young girl my Polish grandmother took me to art galleries like LACMA, my Spanish grandfather, a precision machinist, showed me how to see. I can remember him stopping me to notice the delicate foil around the chocolate bar we were about to enjoy. "Mira (Look!)," he'd command, "so carefully made, so thin, thinner than paper." My mother, a calligraphist, taught me how to paint with watercolors and I would earn pin money helping her fill orders. 
These all awakened me to meet and marry my husband, Dale Fincher, who is also an artist. During this time, I met and soon lost Dale's mother, from her 12 year battle with stage 4 cancer. We were in our twenties and suddenly at the top of the generational line. Dale's mother was just beginning to paint in watercolors when she passed. 
We moved from Los Angeles, to Steamboat Springs, Colorado. In the Rocky Mountains, we ran our non-profit, writing books together and criss-crossing the country sharing the pulpit or stage. When our son came along, we baby-wore him on stage with us. He clocked 32 airplane rides before he turned one. Dale and I closed our non-profit (Soulation) and now run a podcast together, an unedited and unscripted conversation navigating others back to a more human Christianity. Find it at "Backporch Conversations" in your favorite podcast app.
Having children can be such an awakening experience, as much as losing a parent. Having our son moved me to want to create with paint again. I wanted to paint watercolors. I began taking local classes at Colorado Mountain College. When our second son was born, I started painting every day. 
Now, 12 years later, my husband and I schedule our lives around this Spirit-led call to paint. I work from my home studio in Exeter, New Hampshire, along the Squamscott River and still paint every day. I've taken workshops and studied the videos, paintings of some of my heroes. But I've been most influence and trained by Andy Evansen and Charles Reid. 
I continue to mother and home educate our children, 12 and 7 with Dale. Our boys can welcome my once-a-month art lessons, when we all paint, sketch or sculpt together. 
When not painting, I love to cook, read, ski and sail. Speaking of cooking, I'm always looking for better ways to prepare delicious food. And books are like old friends, worth returning to again and again. My favorite self-help book is Gift of the Sea by Anne Morrow Lindberg. My favorite novel is Herb of Grace by Elizabeth Goudge and my favorite murder mystery is Strong Poison by Dorothy L. Sayers. No day is complete with painting and an early morning walk with my husband. 
Find more on Gab, Instagram, Facebook, and LinkedIn. But the best place to get my newest writing and paintings is through my blog. Subscribe here. 
Process
In my soul, I imagine a switchboard of all the faculties we have been given by God to use for awakening others. I can see how watercolor flipped more switches on than any other work. No other place combines my gifts of organization and planning, intensity and sensitivity, emotional awareness and creativity. Painting is what brings me alive, but I laugh when people say, "Oh, watercolors! Must be so relaxing." 
Painting watercolor is much like a chess match, you need to think way ahead before you begin. The whites are the sparkle, vital to keep the life in each painting. So when you see white or lighter colors in watercolor, this is the paper left untouched, or painted around, not typically white paint added afterwards. So, before any paint touches the paper, I've already thought through the lights and darks. I typically paint a value study (black and white painting) as a road map to show me how to connect big shapes and reserve my lights. This means that any successful painting, one that moves me and has a sporting chance to move you, is the last move of a long game.
Often I paint outside to capture the true color and values of a scene. Taking those "field notes" and my value studies, I work on the final piece. I paint standing, usually with moving scores of music (no lyrics unless it's in another language). Painting is most like facing a worthy opponent. Rewarding and exhausting and good, but not relaxing. 
Timing is everything in watercolor. I have to know how wet or dry my paper, paint and brush are, every time they touch.  I don't tape my paper down. Instead, I begin each painting with a wet sponge, wetting down the back and front of the paper, this keeps me fluid and playful. It also means my paintings can be float mounted with the raw edge exposed, a nice feature unique to watercolors.  And then I paint with large brushes for the first wash, running interference, protecting certain areas from the next wash.
I'm creating something for others to get to know, something they'll want to live with and return to study. So I try many ideas, rip up sometimes, and start again. Watercolor is always teaching me how to harness passion with planning. Err on one side or the other, you can always tell. I don't want sheer emotion or rigid planning, I want a dance of both. That's why some paintings end up tossed out, but the successful ones, those are the ones you'll find here in my Shop. 
Thank you for coming to visit!
Subscribe to Jonalyn's newsletter