Before I was an artist, I was an author and speaker with a focus on sexuality and spiritual conversations. And while I'm not traveling and speaking anymore, I still have spiritual conversations with my friends and family.
My First Books
Those of you who came to my art show know I used to write books on spiritual growth. Back in the early 2000's, I wrote a weekly blog about female sexuality (rubyslippers.org, which I've since taken down). One re-post "Confessions of a Lustful Christian Woman" is still one of the most popular posts over at Christianity Today. Between 11 and 30 people are reading that article at any given time. My book Ruby Slippers is about how women can claim their unique feminine qualities while working alongside men. A couple years later, I wrote a book with my husband about having spirituality significant conversation with your friends. Coffee Shop Conversations came out in 2009, soon after my oldest son was born.
I'm still having these kinds of conversations about sexuality and my faith. The best place to hear these spiritual conversations is at my podcast with Dale "Back Porch with Dale and Jonalyn".  We have reached over 100 subscribers and nearly 100 episodes. So, if you're enjoying my work and would like to hear more about spiritual conversations, find out more here.
Christmas Card Giveaway
At our podcast, we recently changed RSS feeds and lost all our wonderful reviews. Wonderful words like these won't be available anymore for people to find our conversations. But you can help us!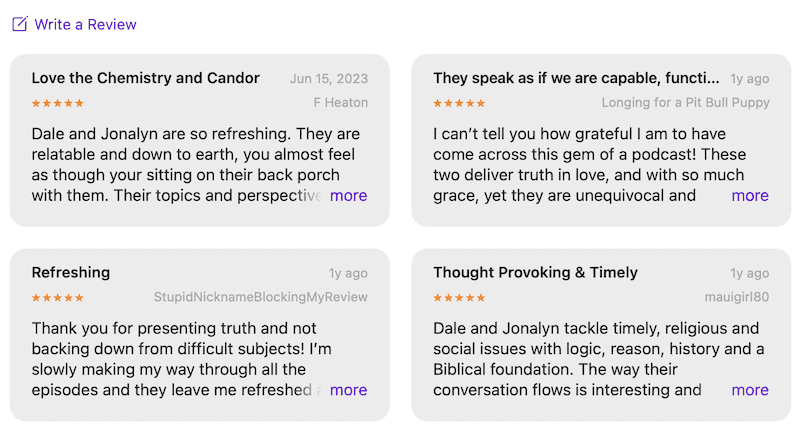 If you've enjoyed our podcast, would you consider writing a review? If so, I'm offering a limited time promo to give away my limited-edition watercolor Christmas cards, four scenes from the Nativity.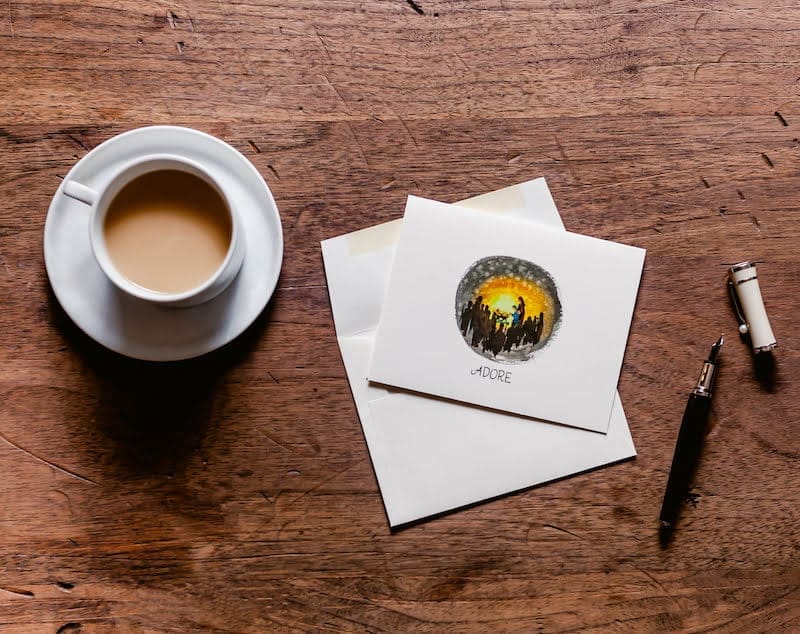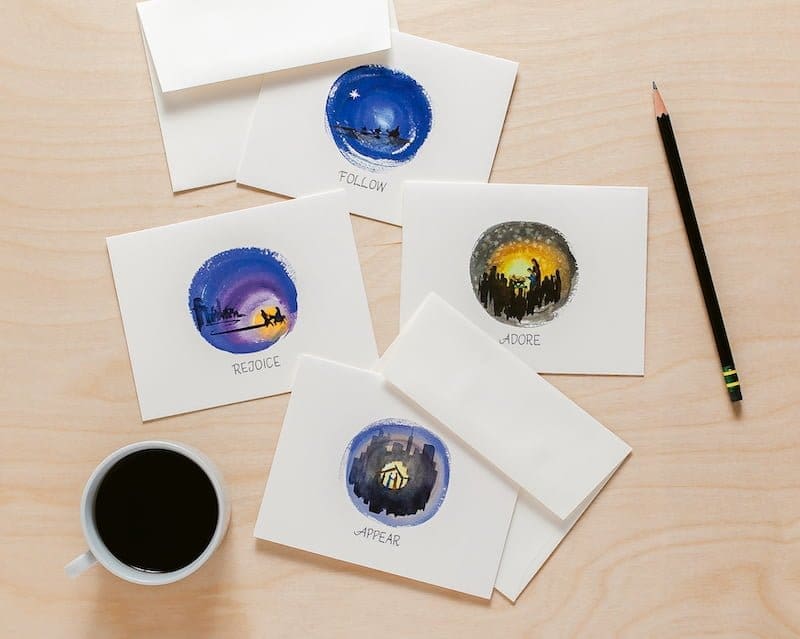 I'd love to send you 30 Christmas postcards with envelopes (good while supplies last). Here's your part.
Listen

to at least one episode from "Back Porch with Dale and Jonalyn" Here's our most popular post to date "Troubleshooting Adult Friendships"

Write

a thoughtful, five-star* review on Apple Podcasts. Take a screen shot of your review and email me.

Venmo

$10 to cover shipping and handling @Jonalyn-Fincher.
I'll drop 30 cards in the mail as a thank you!
And just like that, you'll have 30 beautiful watercolor cards ready for Christmas mailing!
New Paintings
For those paying close attention, you'll soon notice a price increase at my Shop. I've been leveling up in painting ability, so my prices will be reflecting this growth. I'm pleased to be able to offer you this announcement early. You have a chance to look over my Shop before that price increase on Nov 1. If you see anything in my Shop you'd like to grab before Nov 1, the time is ripe. If you purchase before midnight Oct 31, I will honor those prices.  All Shop items increase Nov 1.
As always, some new paintings below. All will increase in price when they go into my Shop next week. Each painting has a story, so don't hesitate to ask. I love telling the stories behind my art.
Have a wonderful Fall,
Jonalyn
*If you cannot leave a five-star review, please just email me your concern with the show. I'd be grateful to hear it.