Commissioning art does not have to be arduous, exorbitant or exhausting. All you need is an idea of something you want painted. Maybe it's a favorite place, or your children or grandchildren.  Once you have an idea, commissioning art is easy as 1-2-3.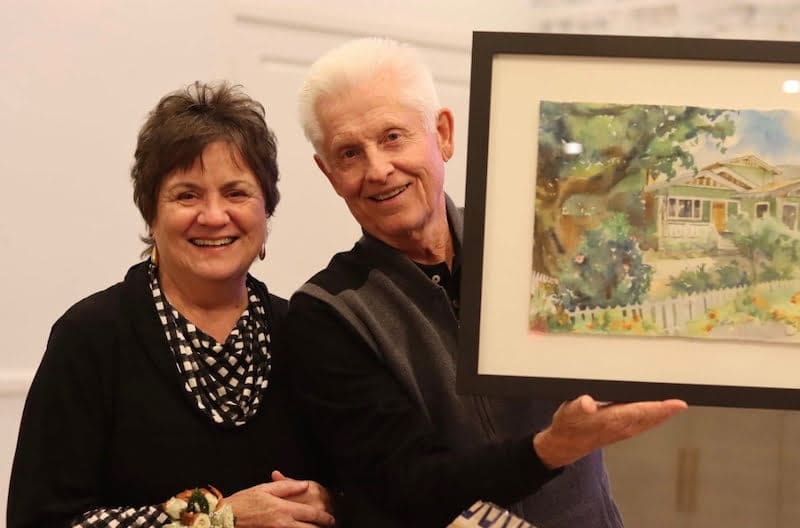 Art is About Favorite Things
All art begins with a meaningful idea.
I want you to paint the view of the lake where my family reconnected. I want a painting to remember the bed and breakfast my parents renovated and ran for so many years. I want paintings of my three children.
Skilled artists can combine several pictures into one landscape. You can see an example at this post "Painting Eden".
I painted a couple's first date, getting to know each other on top of a ski mountain.  The husband wanted this memory painted for his next anniversary. That painting now hangs above their fireplace.
"I want a painting that will help my daughter remember what she's gifted at and does so well," one mom told me. She commissioned me to paint her daughter cradling a toddler while in Hawai'i.
After seeing my gallery, most people find their own memories brimful (more on that here "Remember: Panning for Gold"). They re-member what has been buried for too long. These memories provide the best material from which to commission artwork.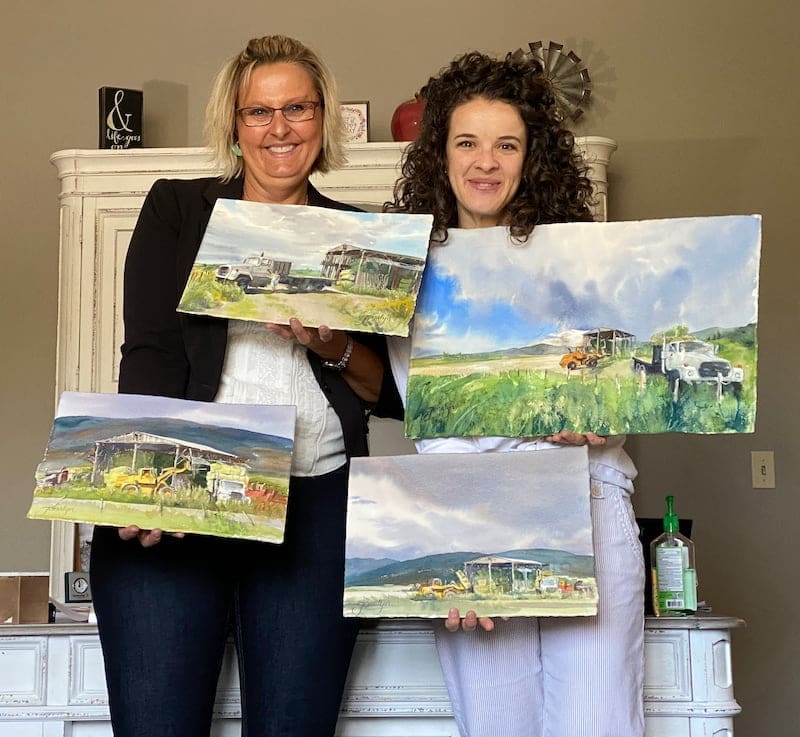 Is Commissioning Art Easy?
Did you know the most difficult part about commissioning art is approaching the artist? Most people think it's arduous and that they will be responsible for bringing the creativity and ideas, consequently they never ask. But, I think it's worth you knowing, no matter who you choose, that commissioning artwork can be very simple. I can break it down into three steps.
Share the idea with your artist and they can help you gather the best photos for the painting. I will often take pictures from clients and mark them up so they can envision the painting beforehand. For instance, I add a Red "X" so they know where I will put their family. They snap any additional photo and we are off to the races.

Decide on a size. My favorite size for portraits is 20″ square. Landscapes can be tiny (3″ x 4″) to huge. This size determines the price, for me that means anywhere from $79 – $1200. I charge more for larger, less for smaller.

Sit back and wait. For my clients, I like to send time lapses and progress pics along the way. 
I also offer my own matting and custom framing and the option to create prints of any size for gifts to others.
So the process for commissioning art can be an amazingly easy process. Below you'll find some Q&A of questions clients and collectors have shared with me and some of the paintings I've painted for collectors. Feel free to scan them for any questions you might have. Should you be interested in commissioning a painting with me, feel free to tap reply and share an idea. You can also text me, just ask for my number in an email.  I have a few commission spots left before I begin sailing, and I'd be glad to work with you! Learn more here.
New Paintings
As always, below you'll find a few new paintings before I list them publicly. The first is titled "Wolfeboro Sail." Here's the backstory.
We were staying for a week along Winnepesaukee Lake in Wolfeboro, NH. Dale, my husband, had just rigged up this borrowed sunfish. I took it out, even while the storm clouds were gathering. The wind and little bay cradled me that evening for this gentle sail.
You'll also see an "Old Man in Winter" and an "Old Man in Autumn", two new miniatures in my Old Man of the Mountain collection. Finally, a painting from my plein air (outdoor) painting day last week at Coppal House Farm's Sunflower Festival. I'm particularly pleased with those chickens.
Should you be interested in any of these paintings, please reply to this email for more information. I will be listing them in my online Shop next week. And remember, you can always ask me to frame a piece. I don't list that in my shop, but as a subscriber, I'm happy to frame for you!
Every painting has a story, find yours!
Let's start with a picture of me painting outside, then the new minis.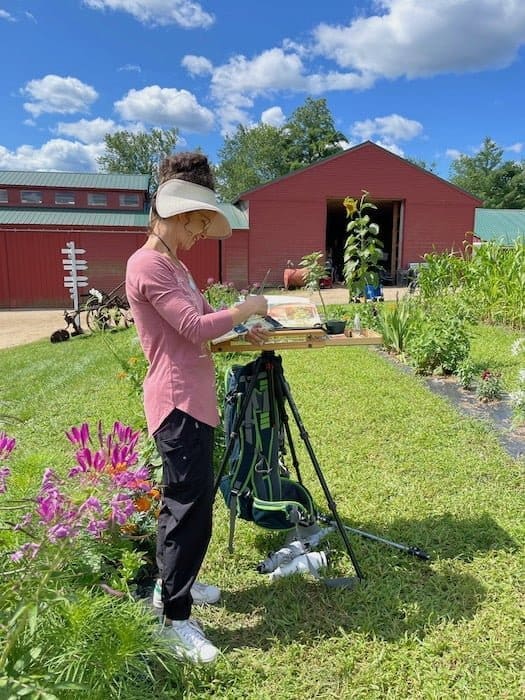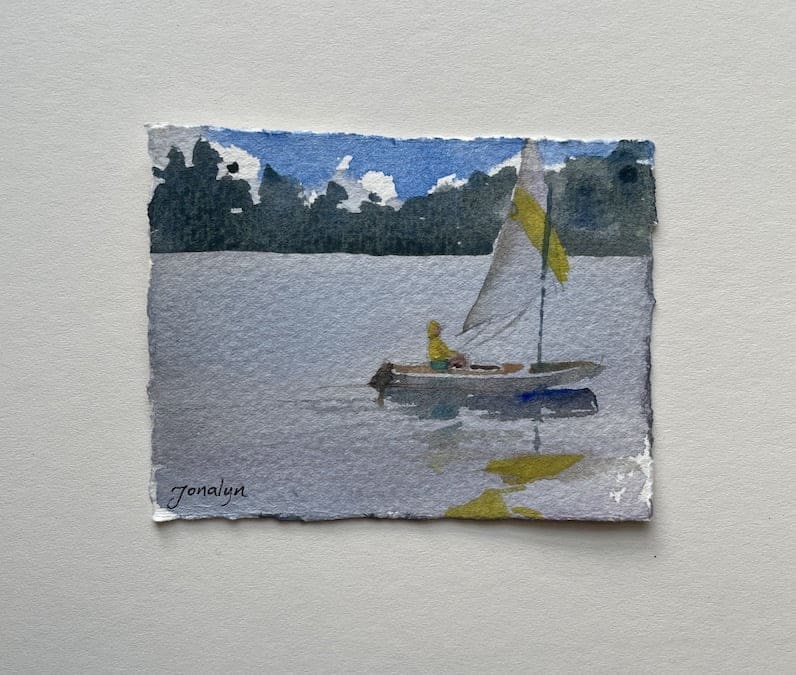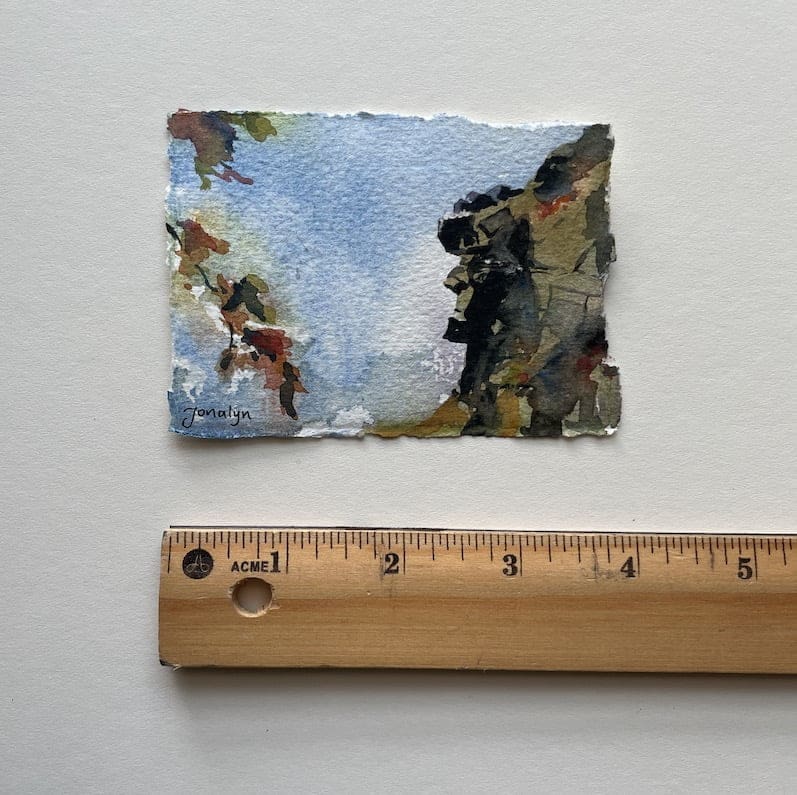 Q &A on Commissioning Art
Q. I've never commissioned art only purchased finished art. What if I don't like the painting after you paint it?
A. Such a good question, how scary to imagine buying something without knowing how it will turn out. As an artist who favors commissioned work over other types (this is rare), I work very closely with every client so that they see images of my sketches and value study before I paint their final piece. So you will see and can ask for black and white studies and color sketches of the final piece. This is the time to share about anything you don't like. You'll see many smaller versions of your painting before I paint your final painting.
Q. If I have multiple kids, how do you choose three photos that work for portraits?
A. A portrait should capture the essence of a person, not just a photographic copy, otherwise, you can get a photography shoot. An artist should work closely with you to help you find the properly lit and best pose for each child. If you plan to hang the portraits together, having a similar feel/background/mood to these paintings will help unite them. I help all my clients with tips on how to guide their kids to be natural and how to light them best for a portrait. Then I do color studies of each child before we move to the final painting. If something isn't working we regroup and make it better.
Q.  How do you determine the value of a painting? Why do some artists charge millions and you're only $900 for your biggest piece?
A. This is an important question about mega-pricey art pieces. What allows them to charge this much? I am going to be very open here and give you my thoughts. Others will deeply disagree with me. I believe mega-pricey art is high because someone has convinced their buyers that art is an investment. I think this is a deeply flawed and frankly insulting way to view art.  To purchase art because it's valuable is like marrying a man because he's wealthy. There's much more to a man, or art, than that. It reminds me of something I've experienced, inviting a woman into a discussion panel of speakers simply because she is female, not for her insight or rigor or intelligence (or whatever she has worked so hard to contribute to the topic). I don't want someone buying a piece of my art because it's going to appreciate, I want them buying it because they value it for the beauty it offers. In other words, because they like it for them. To value a piece of art simply as an investment may make good dollars and cents sense (like a Van Gogh –thought I believe this would even offend and discourage penniless Van Gogh) but art-as-investment does not value the art for the right reason. Nothing honors me or my art more than a person who has an experience with my art that they want to live with it, hence they purchase this piece. I set my prices so that I could live off this work. I don't set them so that I can look or feel exclusive or upper echelon. The biggest value I offers as a pastor-painter is to help clear the cobwebs so people can see what they love. I want them to remember what they value (more on that in my last post "Remember"), and recognized their values in an art piece. Then I want them to realize this is sufficient for enjoying art well. Many wealthy art collectors are actually insecure about their artistic taste.  I offer the value of working with my collectors discover their taste and values when they commission with me. I don't charge for this. I only charge extra if they want a rush job, because I hate rushing this process.
Q. Are your paintings going to be realistic or more abstract?
A. Every painting an artist does should fit into their already established body of work. For me, all my paintings are realistic but lean toward the impressionistic style. I would not call myself an abstract painter. Tip: Don't ask a painter to paint for you if you aren't drawn to their work.
Q. How do you paint a portrait, from life or from a photograph?
A. Most artists paint from photographs. But there are some who can and even prefer to paint from life. This is called "alla prima" or in the case of a landscape "plein air". Always ask each artist for their preference and be sure to share yours to see if you match.  When I paint from life I charge more because it requires more coordination and more studies.
Do you have a question? Write me, because I am happy to help!