I remember the first time I purchased an original painting. If you've been to an art museum, you know the difference. The paint and paper, the colors themselves glow in a way a print cannot. Even the pictures I take of my art, even professional photographs do not capture the way the paintings burn with color and texture. Every one of my customers knows exactly what I mean. I regularly hear "Your painting is so much more beautiful in person!"
You have an opportunity to choose a low-priced original watercolor in my Shop. But the time is nearly gone. You have one day left to find an original watercolor at the wholesale price. Take a moment to browse now before my prices increase in August (more on price increase here). Find all my original Paintings in my Shop.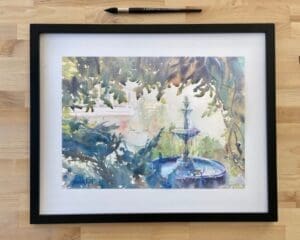 I'm delighted to reveal a brand new card collection. You won't find any leaks about this one on social. As a blog subscriber, you're finding out first!
Inspired by the growing popularity of my Flower Collection, I started sketching the layout for four new flower cards: sweet peas, tulips, daffodils and a bird-of-paradise. Completed in July 2022, the Flower Collection 2 is ready for the first reveal. You'll get to see one of those cards in just a moment.
Each Flower card includes a story of why I chose this particular bloom. The stories reveal how we all have a particular connection with certain flowers. For an example of the iris story see my Flowers Collection 1. In Victorian times, people sent flowers knowing full well what each bouquet symbolized. I've included those meanings in this Flower Collection 2.
Did you know my Flowers and Birds Greeting Cards Collections are my most popular product? If you haven't had a chance to see either, find them in the Cards section of my shop. 
Now, are you ready for the reveal?
First, the story.
The Sweet Pea
When we had three corgis, I would call them my "sweet peas". Then, we had our first boy. The corgis followed him around and I started to call him my "Sweet Pea". Now, the corgis have all died. We miss them, but my Sweet Pea is now 12 and he remembers them. I painted these sweet peas in honor of them all. In the Victorian times, when people knew flowers had meanings, a guest would give a sweet pea to say "Thank you for a wonderful time."
I'm very happy to share that while my paintings are going up in price my cards are staying at their same, competitive prices. And every time you purchase a set, you support my work. Thank you!