You know, Hitler wanted to be an artist . . .
It was easier for Hitler to start World War II
than it was for him to face a blank square of canvas.
— The War of Art,  Steven Pressfield
All journeys of consequence begin with small steps. Creative work means fighting what Steven Pressfield calls "the resistance". I think we are fighting deeper forces than simply inertia and laziness. I believe the enemy of our souls is invested in destroying our creative powers. Hitler is a case in point (see opening quote).
So when I decided to leave pastoral ministry at age 38 and take up painting watercolor, I was asking for it.
Learning to paint watercolors in my 40's means I face off with resistance daily. I commit to paint when no one cares, when it's ugly, and when I'm frankly embarrassed of the result. Working as an artist means I daily show up to keep trying. And my amateurish paintings grow less amateur each day. But, I've been painting daily for three years, and still the steps are small.
Most days I do not feel proud of what I'm painting. I am annoyed at how long it takes. So, I read books that encourage me to show up (The War of Art: Winning the Inner Creative Battle is quite good).  In the process, I've become more familiar with my perfectionism.
~~~
Once I posted an Instagram image of this quote "Perfectionism is where fun goes to die." I had several people ask me where they could get that book. It wasn't a book, yet. Maybe one day it will be.
Their response revealed what we all know: perfectionism is rampant among us. We think we need perfectionism to keep us in line. That dependence is reflexive, addictive in us. We should sit up and notice. Perfectionism is actually a symptom of a bigger addictive disease: co-dependency*. I introduced codependency and it's connection with narcissism last time (How Special Do You Need to Be).
Today, I want to focus on how creativity of all kinds (writing, child-rearing, inventing, entrepreneur-ing, care-taking, educating, designing, painting, composing, drawing) brings out our perfectionism.
Nowhere is this more evident than when our children try to draw.
~~~
Most Mondays, I teach my boys how to draw and paint. Sometime, they'll finish a picture and announce, "I can't do it. I hate it." Tears sometimes accompany this statement.
How would you respond to a child who hates what they've just created?  If you're like me, you'll want to contradict,
"Oh no, honey! It's great!" Praising them while they look at you, dubiously. Discomfort with a child's self-critique, especially when it comes to art, is very common among adults. However, we don't hesitate to encourage self-critique with math, or science, or grammar.
"3 + 8 = 12. Wait, that's not right," our child says.
No anxiety to soothe in us, we calmly reply, "Yep, you missed that one. What's the correct answer?" And we check to be sure they know that 3 + 8 = 11.
In math, we're confident of the answer. With art, we are less certain. Most of us have some baggage about creativity. We might not know what counts as good art, we might think it's about expressing or just trying. Maybe we remember we "can't draw a straight line." Regardless of the reasons, when our young child rightly critiques his own work, we contradict them. We steer them away from facing the huge gap between how they draw and how they want to draw. And we tip our hand.
We are perfectionists. We cannot sustain the slow work of growth. We cannot face the gap in their ideals and their performance because we don't know how to bridge the gap. We smother our ignorance with pretending it's just fine as is. When to our kids, it's obviously not. 
We pin their childish, sweet drawings on our walls to prove to them: we are proud. We recognize an ability in them to try new things, an ability we have lost. But, unless we can face their imperfections, we seal our dysfunction into them. too. Let me suggest another way to respond to them. Because art is perhaps the clearest place we pass along the prefectionism infection to our children.
"I hate this. It's very bad."
"Tell me what you hate about this."
They might say it doesn't look like they expected, or the colors are wrong, or it is messy. Regardless of what they say, we can respect their evaluation. When we do this, we honor their desire to grow. We can ask them,
"What would you like to do?" And we can find ways to make their next steps possible even if they want to throw the artwork away, start over, or try again tomorrow. This week I came up with an idea, to become their "Eraser Truck" and whenever O yelled "Eraser Truck" I would swoop in and ferociously erase his attempt to draw a mug. He tried several times, and there were lots of pencil smears. Honestly, I thought his second, third and fourth attempts were just great. But I kept my mouth shut (gold star for me!). And let O be the higher ranking evaluator of his work.
By accepting O's evaluation, I give him space to see the gap between the current skills and where he wants to be. I am squaring off with the perfectionism in my heart, the lie that says, "Our children should love everything they create." How impossible is that fantasy?! Perfectionism in me. And just so we are clear, perfectionism is a tell-tale of codependency*. There are many other characteristics but we're taking them one at a time. That's another way to fight perfectionism. Small steps. 😊
With God's help, we can say "No, this isn't going to infect my kids, too." This acceptance of the process is how we take a tiny steps of growth, out of perfectionism.  Imperfectly.
~~~
Expect backwards steps, circling steps. Expect slides down the hill. Expect yourself to be unable to stomach your child's ruthless self-criticism. Expect your child to remind you of your own self-talk (Yikes, right?!). Expect your own creativity to be blocked, your third draft to impossibly disappear. Expect WordPress to crash. Expect your family of origin drama to erupt as soon as you pick up a paintbrush. Expect the resistance. Expect ugly paintings without an audience, without sales. Years of this.
Perfectionism can only be dealt with imperfectly. Sometimes I announce (yep, out loud), "Today I'm going to paint an ugly tree!" And when I prove prophet, I sadly clean my brushes and repeat, "I got my brushes wet, I got my brushes wet. "
Facing the music, taking the next step, expecting ugly things along the way. It's the work of creativity. It's revolutionary because we must face off with the enemy of our souls to do it. He hates it when we put ourselves in a humble place of showing up, for that's when God works his miracles.
Never forget, we have assistance, we have the ultimate Helper. It's no accident that the first time the Spirit of God filled a human being, it was an artist (Exodus 31:1-5).  All creativity is an act of God indwelling us and us cooperating with his invitation.  Some call it the Muse, the spirit, the universe, the stars, synchronicity, horoscopes. But, I know His fingerprints. He doesn't demand we heal perfectly. He still shows up when we show up. And he is the Great Physician, the healer of all addictions. He can heal us of perfectionism and even codependency.
He can return us to the courage to create even when we must erase again and again.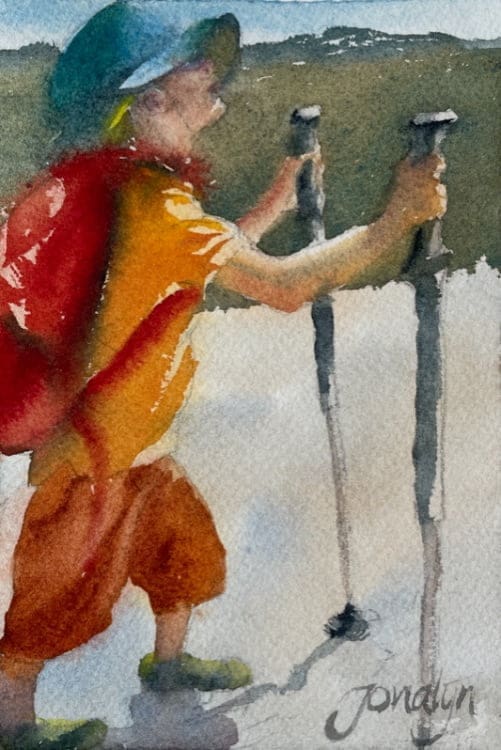 *Codependents, like all addicts, are characterized by: dishonesty (denial, projection, delusion), not dealing with feelings, control, confusion, perfectionism, fear, rigidity, judgmentalism, depression, inferiority/grandiosity, self-centeredness, external referencing, etc. For a codependent, one fudged truth about who they really are is like a first drink for an alcoholic. Codependency has diseased most our relationships, in the family, the church, in education and politics. And our culture is invested in keeping people away from healing. For a short, smart book on the topic see Co-Dependence: Misunderstood-Mistreated by Anne Wilson Schaef.