Back when I had only been married a year, way back before I had any idea of how much soul work I really had to do, I met Karen. 
Of the thousands of therapists in Orange County, God appointed her for me. And she's been a huge influencer in my life the last two decades. She brought the healing words that helped me write on modesty (Covering Up is Not the Answer) and lust at "Christianity Today" and my own blog, "Ruby Slippers". She was the stabilizer during some of the most turbulent years of my life. 
She gave Dale and I courage to walk away from some of the most toxic people we knew. She knew me before and during our childbearing years. She knew me before and during our homeschooling years. 
And she has become a mentor and a friend. 
Karen submitted a photograph for my Grand Opening Portrait Contest at the beginning of this summer. This photograph of her husband, D, and her son, R, won a spot. 
I wanted to share the story behind this huge (for me) 22" x 60" double portrait. 
"Leaning In" focuses on the transfer between two generations. The act of listening and understanding between a parent and child, which seems quite rare these days.  
I wanted to show the engaged listening, the honest tenderness (as Karen puts it), and the faithful fathering that D was offering. As Karen shared with me,
D so often flies under the radar, practicing his caring, attentive service and compassion not to be seen, but "all in" with relationship. He has fathered R faithfully, and now R is doing the same with his own children. To see these two men so close and trusting brings me great joy.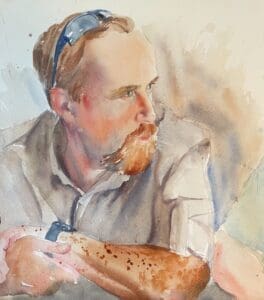 You see, these may look just like two men to you, but Karen knows them deeper. She knows that D has pastored for decades, that R is a retired combat veteran. Karen knows D's vocational and financial sacrifices for honesty and quiet acts of justice. She knows how R was chosen by the Air Force for missions I cannot even share here. She knows how much these men have done and cannot or will not say publicly. She knows that their souls are shaped by conversations like this, leaning in to listen well. 
So, you might imagine I was nervous to be painting for Karen.  I was trying to paint a doubly large, double portrait of the most important people in her life. Have I mentioned that I've never painted a portrait this large before?
I was so nervous I didn't even want to try. So, I did what I usually do when standing off with anxiety; I asked Dale and the boys to pray for me. They were in the basement down the hall from my studio, doing their math lesson. 
As I walked to my studio, I could hear them break from math to simply ask God "Give Mom the courage to paint well."
I echoed their prayer and began. Trying to take all the slow and steady steps carefully as I've practiced. To trust the process. First the sketch, then the value study, then the larger sketch, then the first wash, then the drying, then the second wash. 
No rushing, only gentleness and courage. 
I whispered a "thank you" that I was painting in New Hampshire's humid climate and not the "snap, crackle, pop" dryness of the Rocky Mountains. The clock is always ticking in watercolor and you cannot just keep adding layers or the painting begins to lose its freshness and sparkle. I needed that extra time. I took process shots along the way so you can see what it was like. 
Even when I was finished, I know there are places I'd like to be better. But the imperfection of my skill and technique is also a place Karen has helped me gently accept and even celebrate. Painting is a process.  And I know "Leaning In" is as an accurate testimony of where I am right now. As the watercolor giant Charles Reid writes "Perfection is a poor alternative to making imperfect paintings that reflect our moment's honest vision." 
I was proud to send "Leaning In" to Karen, the woman who's leaned into my life. 
K gifted "Leaning In" to R this August, for his birthday. I sent a professional print to Karen for her own walls. When they opened it, Karen texted me.
R was amazed and delighted by the painting. Thank you for making "Leaning In" a tangible reality that we can enjoy for many years. ❤️ Karen
Trust the process, trust the God behind the process. He's so good to bring me the work and an audience like you!