In honor of the good fathers out there.
We don't have a family night. It's not because we are too busy or because we think it's a bad idea. It's because of our family culture.
I want to share one way Dale changed our family culture.
Growing up as the oldest of four kids, my dad would take each of his kids out once a month. It was the only one-on-one we got with our dad and it was supposed to be good bonding time. We called them our "Wednesdays".
This was a band-aid fix to a cancer in our society: busyness. You know exactly what I mean: a president of a company, respected in his community may easily have a better relationship with his employees than with his children. This is normal to us: men who don't know their children. COVID regulations showed many of us the enormous pleasure and vitality of having the menfolk around all day.*
Dale doesn't do "Wednesdays" with our boys, and we don't do family night. Dale offered a different culture early in our marriage.
Dale would finish work and I'd finish my grad classes and start making dinner. I didn't want or expect Dale to hang out while I cooked. I expected his sphere to operate much like my dad's, away from me. So when Dale announced that he'd rather go out to eat so that we could talk together, I was startled, bewildered.
I was in a strange place. Didn't Dale know this was bizarre? To push so much of his important world aside to be with me, not for a date night, not when he wants to get me in bed, but whenever he and I are in the same room. Dale looked up when I walked into the room, he met my eyes in a crowded party, he wanted my company above anyone else. He let me interrupt his male sphere, even during his most important events. He wanted me as his companion.
That began a new family culture. We cultivated evenings and mornings together, from waking and breakfasting together to going to bed together. We continued building companionship even when I left to teach school and he travelled for an itinerant ministry. When our youngest came 7 weeks early, I stayed in the hospital for five weeks. He was home with our oldest. But at night, we timed it so we could watch Cheers re-runs at the same time, texting each other at our favorite funny moments.
We have incorporated our children into this existing space. The boys clean up with us, they talk with each other about bee-keeping or Sushi Go! We all sit around and talk—daily. No incident occurs in anyone's life without someone wanting to share a bit of it. I may never defeat a boss in Super Mario but I know these games mean the world to my sons. I know the books my son reads by himself. I hear the favorite tracts from Snow White my youngest plays in his room.
The together time is not required or scheduled. A favorite phrase around here still is, "Do you want to go on a walk?" And even though we have recently swapped White Woods for asphalt and suburbia, to me it still feels like an exclusively and queenly invitation. So does,
"Will you sit with me while I play Nintendo?" that's the five-year-old.
"You wanna have a snowball fight, mom?" that's the eleven-year-old.
They all mean the same thing. I have made space in my life for you. I want you near. Like father, like son.
In honor of the fathers who make room every night of the week for their children, I offer you this painting, Lobsterdad. Be sure to read the backstory at "Artist's Note" at my blog. Just click the title above to be linked there. In Lobsterdad you are seeing a real life father who brings his son to learn daily at his side, not in a classroom, not from the experts, but from his every day mistakes and hard-won skills. This is how culture changes. Bravo to the fathers who let their children accompany them!
I'll close with this poem. The Pasture was written by a New Hampshire poet, Robert Frost, another devoted husband and father.
The Pasture
I'm going out to clean the pasture spring;
I'll only stop to rake the leaves away
(And wait to watch the water clear, I may):
I sha'n't be gone long. —You come too.
I'm going out to fetch the little calf
That's standing by the mother. It's so young,
It totters when she licks it with her tongue.
I sha'n't be gone long. —You come too.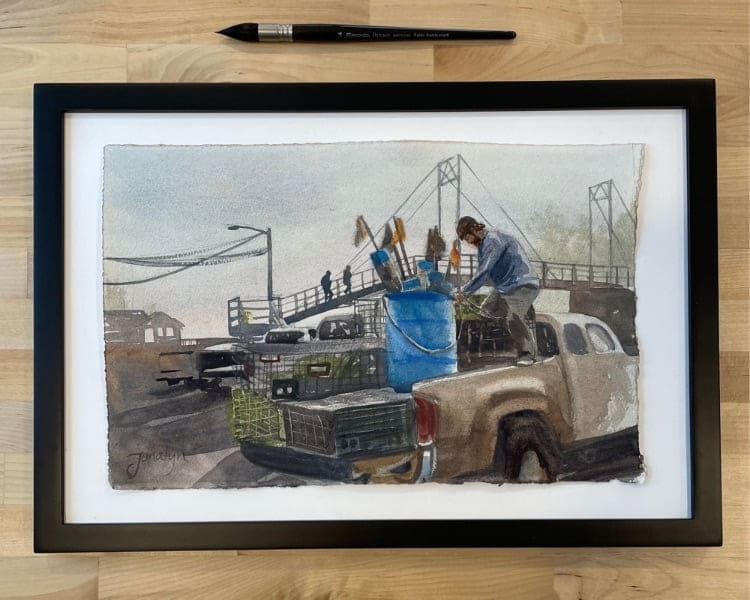 * Some men do not bring pleasure and vitality. I know about this, as well. This is not a post about them.