Let's talk about how friendship is different from business contacts.
Friends are simply people you know well enough that you're happy being yourself. The more you know them, the safer you feel to be you. You may not reveal all your secrets, but you can be your back-porch self with them.
When your honest self shows up to be known and a friend brings her back-porch self, too, then something can spontaneously arise: a connection. When the connection (over an idea, a hobby, a similar experience) fires up, you have the beginning of a friendship.
Revealing yourself for connection is not the same as revealing yourself to impress someone. It's why modest or shy people take longer to make friends. It's why arrogant, flexing-types seem to have so many friends. But in reality, slick, marketing types don't have friends, they haven't revealed anything for connection. They're just revealing to impress you. And they will want a tip when they're done.
Tips are never part of friendship. They're part of business interactions.
This revealing-yourself-for-connection is a perfect test to distinguish your friends from your lawn lady.
I know my lawn guys, my lawyer, my mailman, and the neighbor three doors down. They're in the business contacts group. We interact over a specific thing (like the lawn), but we don't reveal our secrets, our doubts, our deep celebrations. They don't know the books I'm reading or that I homeschool.
Why? Because the relationship doesn't warrant that closeness. The lawn lady doesn't want to know if I had cancer or if I am planning on having another kid (nope, not an announcement 😆).
Of course, many business contacts become friends, but not until someone chooses to connect at a deeper level. It could be over golf, or running, or having spouses who love to garden. But that's beyond the level of "Could you cut the grass on the other side of the fence this time?"
Many so-called friendships are actually just business contacts. They're about rendering a service, without curiosity about anything else.
How many family gatherings (let's be honest) sound more like a group of business people, not friends: talking about impersonal, safe topics. Most of us know a lot about this, we spend gatherings working as hard as we can to conceal our most important ideas and desires. Our back porch self, ironically doesn't show up at our family's back porch.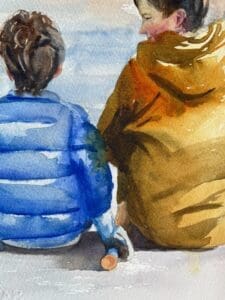 How many family reunions over Easter or Thanksgiving, Fourth of July or Christmas read like primers on how to make business small talk?!
"Wasn't the morning so hot yesterday?"
"The pumpkin pie is really great this year."
"Look how big she's grown!"
They're hide-it-all dinners, quite a lot like Facebook or Instagram, Twitter or YouTube, for that matter. Social media is like a (dysfunctional) family gathering. Stick to the safe topics, avoid revealing honestly (you can reveal lots of partial truths though), keep that back-porch self tucked in the attic. Oh, and eat and drink a little extra to get through the ordeal. No wonder most of the friends I know cannot stomach Facebook when something serious happens in their lives. It's just the wrong place for real connection.
Here's what's key, concealing isn't wrong. Protecting our most precious ideas from business contacts isn't wrong. We don't share our back porch selves with our lawyers or the lawn guys. This means we have a private life.
However, these hide-it-all places are not friendship, either. Most of us are not friends with our extended family. Some aren't even friends with those they call "friends." This applies to many marriages as well, even the good-looking ones. They might have posted #marriedmybestfriend on social, but actually, well…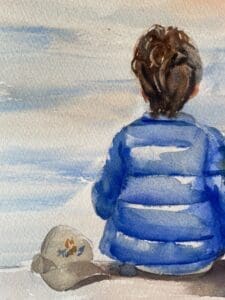 We only talk when I need something.
I expect them to provide a service.
I expect them to not expect anything from me.
I don't have bandwidth to know if they're worried or wanting something today.
We do not share openly about our feelings, dreams, or plans.
It could apply to your lawn lady. But it also applies to many a marriage, many a friendship.
If this applies to you, you can safely assume you're on the poverty line with connection. Maybe you didn't even know it.
God created you for connection beyond business contacts. If you want to know more about how friendship ought to be, stick with me for next week's post.
If you think someone could use this post, forward it on to them.
And if you want to comment, please remember, I will guard your dignity, your ideas, and your courage as you take that vulnerable step of sharing publicly. And I will respond. If you comment, be sure to check back for responses.
Let's start the conversation.