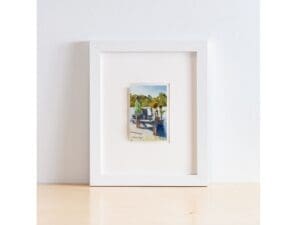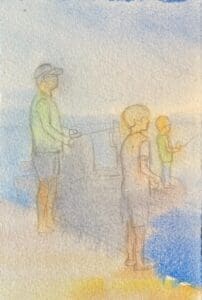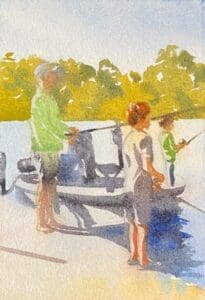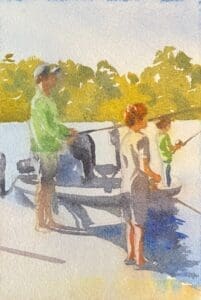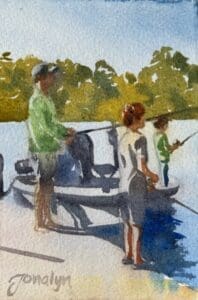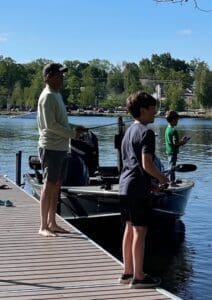 Dale, my husband, has fished with his boys for years. They're not fans. Be it their age, or the lakes we chose, or their interest, this wasn't a place they connected. 
Until this summer, June 2021 at Lake Winnepesaukee. In one day, we found the magic, all three of them pulling in fish simultaneously. Cheering, hailing, celebrating each other. Dale kept busy pulling hooks out and replenishing mangled bait. In that week, fishing became the connecting point every dad dreams about. 
I wanted this painting to maximize their united focus, all three guys facing the same direction, fishing even before they put the boat out on the lake. I liked how their rods were pointed in three different angles, but all facing the same direction. So I kept the water light and the dock quiet. Nothing busy except these guys.
I connected Dale's shadow to the boat's shadow, then to my oldest, then again connected to the boat. This connected a lot of shapes into one. I needed a way to connect my youngest, so I beefed up Dale's fishing rod to connect both boys' heads and lines of sight.
Connecting the big shapes makes for good art, connecting over big things also makes for good friendship. I see now, after our epic Winnepesaukee trip, how fishing bonds father and sons. This painting isn't about the fish, it's about the men. 
Original watercolor, 4" x 6", watercolor on 140 lb 100% cotton Saunders' St. Cuthbert's Mill paper